October is traditionally the month for GITEX, the major trade show featuring the latest technologies in Dubai. The event matters not only in the Middle East region but also is very popular with the tech companies throughout the world.
It was not our first time here. For several years, we've been participating with a standard exhibition booth, last year we built a huge joint pavilion here for ten co-exhibiting companies which was super successful in terms of spreading the word of telematics and IoT and getting new clients (both for us and for the exhibiting companies).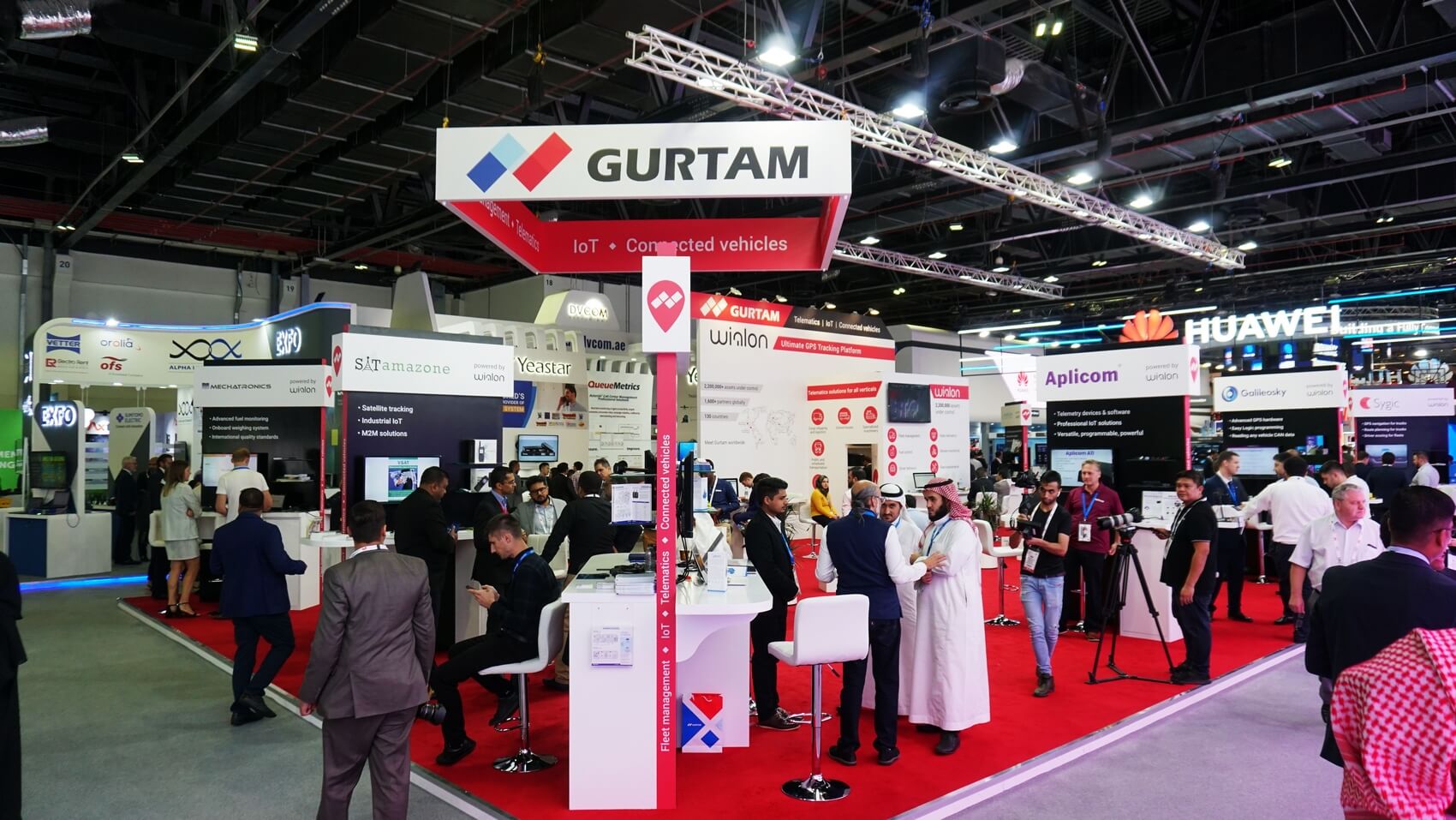 We thought we couldn't leave it at that, so this year, the GITEX visitors had a unique opportunity to attend the Gurtam IoT zone and communicate with 14 (!) telematics companies there, each of them being an expert in its niche.
The grand affair
GITEX 2019 was indeed the right place to get immersed in the atmosphere of IoT, telematics, and high tech. Hardware manufacturers, developers of Wialon-based solutions, connectivity providers as well as Gurtam experts worked together at the joint booth to offer visitors maximum information in one place. Thus, with the help of our telematics ecosystem, the companies could find an out-of-the-box telematics solution or work out a customized one taking into consideration all the business-specific requirements. Judge for yourself:
Finding the hardware
Concox, Streamax, Galileosky, Escort, Navtelecom (conquering a new market at the expo), Mechatronics, RCS, Bitrek, Aplicom – an impressive list of hardware manufacturers! They all brought their latest and best selling products to the show. Businesses could find all kinds of equipment here starting from trackers and FLSs and finishing with cameras, measuring, weighing, temperature monitoring devices, and even a high-tech weather station.

Dealing with connectivity
Connectivity is the field that can't be left out when trying to come up with a workable telematics solution. To help out those seeking advice with it and share their expertise, a few companies-leaders of the connectivity world took part in GITEX at the Gurtam IoT zone. Satamazone brought the most up-to-date and robust satellite phones, M2M Express was offering M2M connection services without signal loss – great solutions for businesses caring about their assets always being contactable.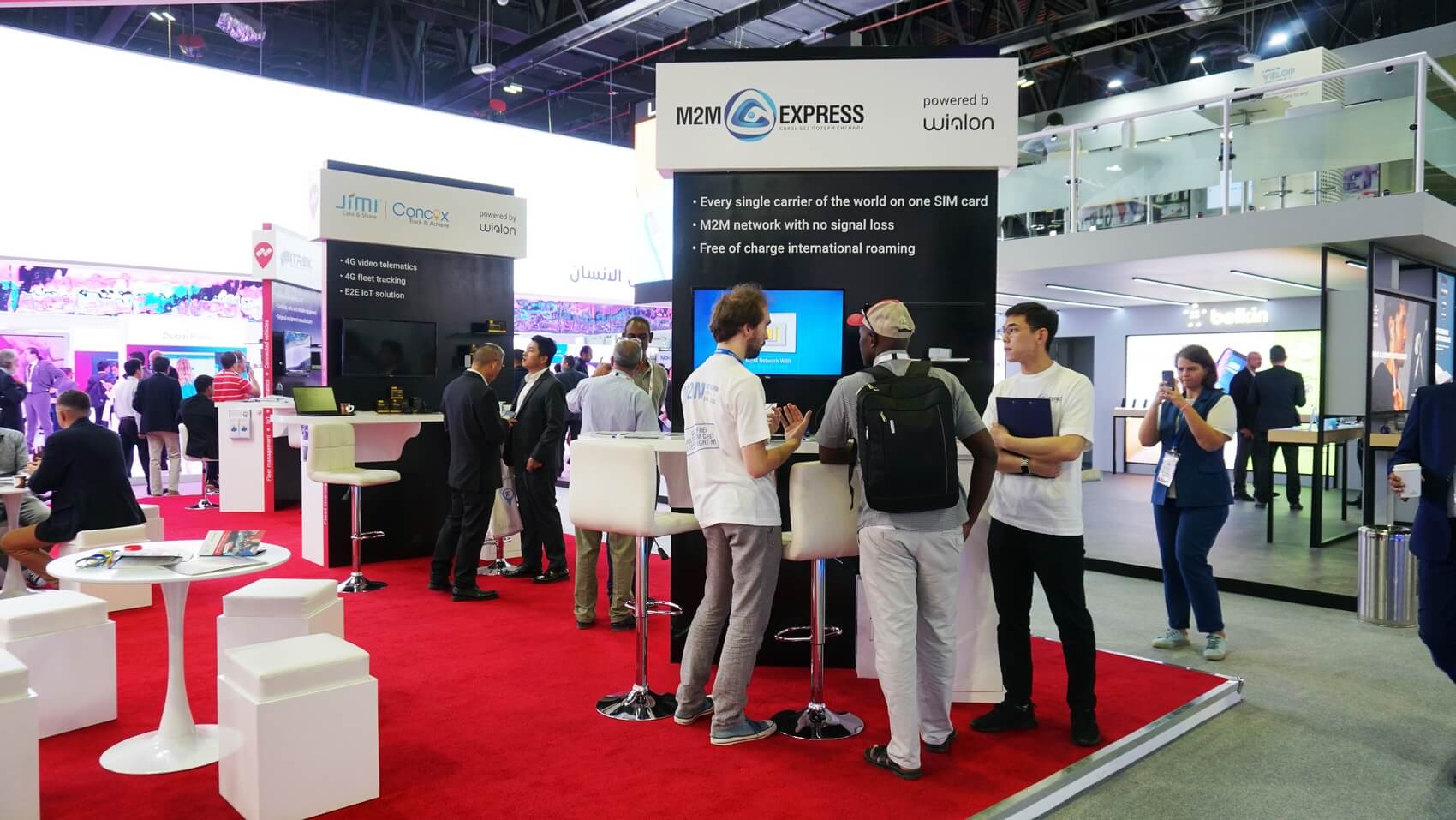 Learning new things about navigation...
Sygic, the provider of the bestselling GPS navigation solutions with the 15-year experience, introduced its Sygic Professional Navigation app. It was designed for heavy trucks, delivery vans, and emergency vehicles routing with the option of integration with any fleet management system.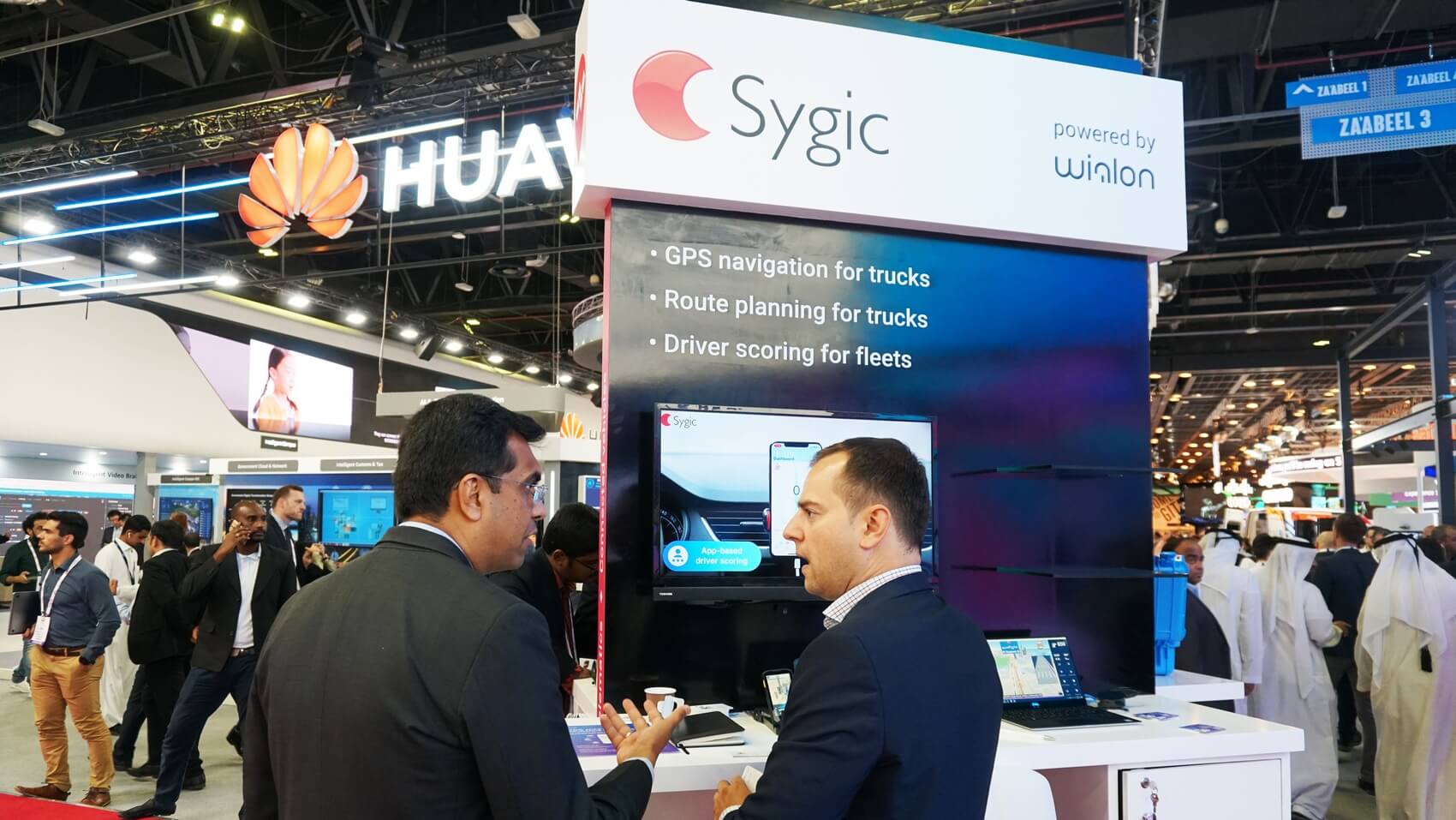 ...and in-door positioning
ELA Innovation from France decided to demonstrate in practice what their wireless beacons and sensors are capable of and deployed a dozen of these devices at the booth. The company's in-door plug-and-play localization system transforms the raw data sent by beacons into GPS coordinates (latitude and longitude), while placed on people or moving assets the devices allow to obtain a precise positioning of 5 to 10 meters. This is a go-to solution for monitoring employees of large plants and factories, as well as offices and other reserved spaces.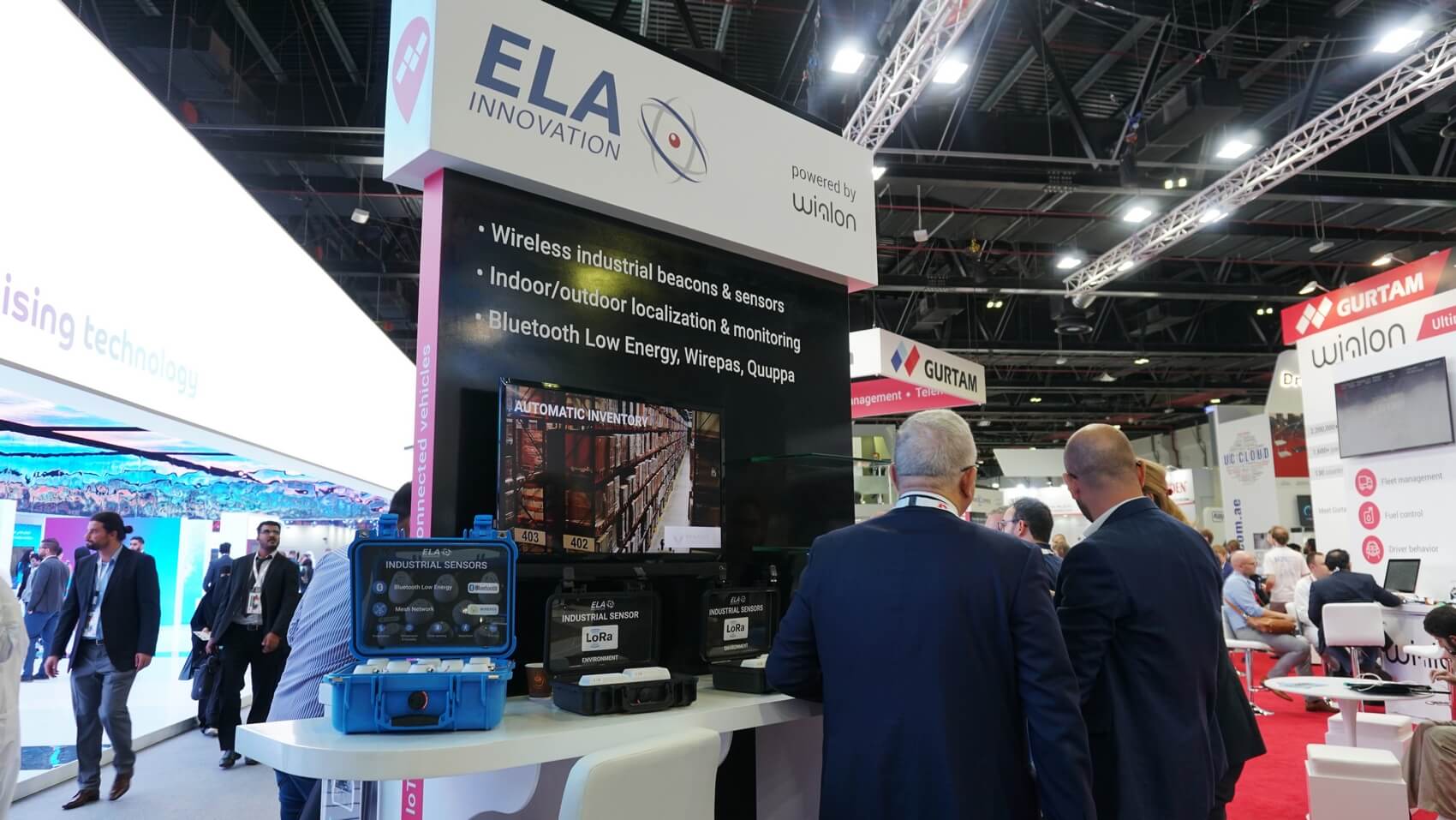 Getting acquainted with Wialon-based solutions
Reading the success stories of other partners on Gurtam blog or in our use cases library is super useful and helpful of course, but talking with one of them in person and seeing the solution on the screen is a totally different experience. Albasmart from India represented by its CEO was very compelling when explaining the advantages and work logic of BusOkay, the company's solution for school buses monitoring.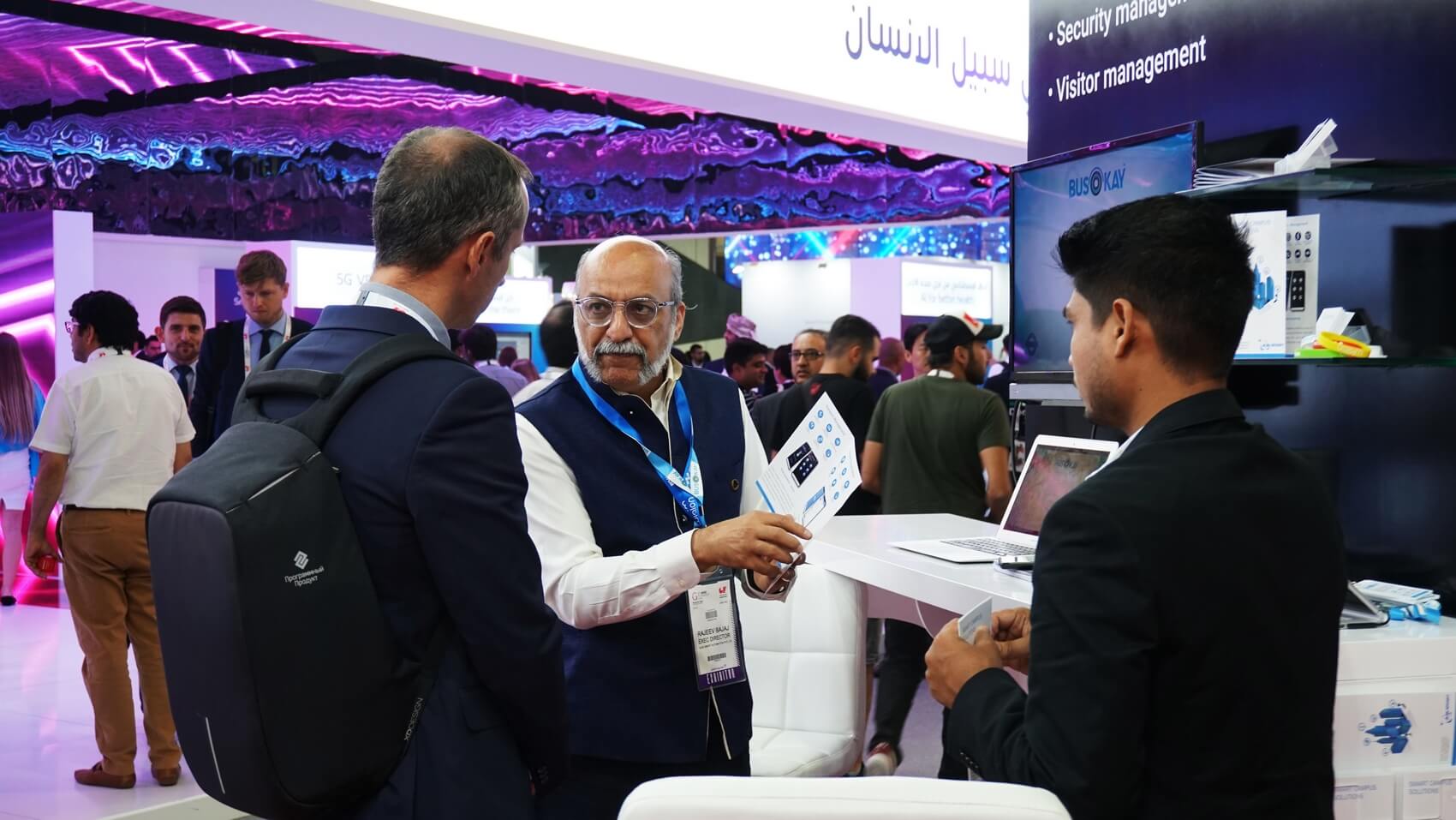 Mastering the community spirit
When getting ready for the show, we thought that our team was just enough in terms of its size but the reality showed we were wrong. The traffic here was so intense that at times, there were not enough Gurtam people to handle all the visitors.
On average, a Gurtam employee held 24 meetings for 4 days, which is 6 meetings a day. The most productive of our colleagues met with 50 partners and leads throughout the exhibition, which is 13 companies per day or 3 companies every hour!
This is when our professional community gave a helping hand – Integrated Solutions (Iraq), GGRCO (Iran), Traklink (Jordan), Inbound (UAE) and other partners took these visitors upon themselves explaining and showing Wialon.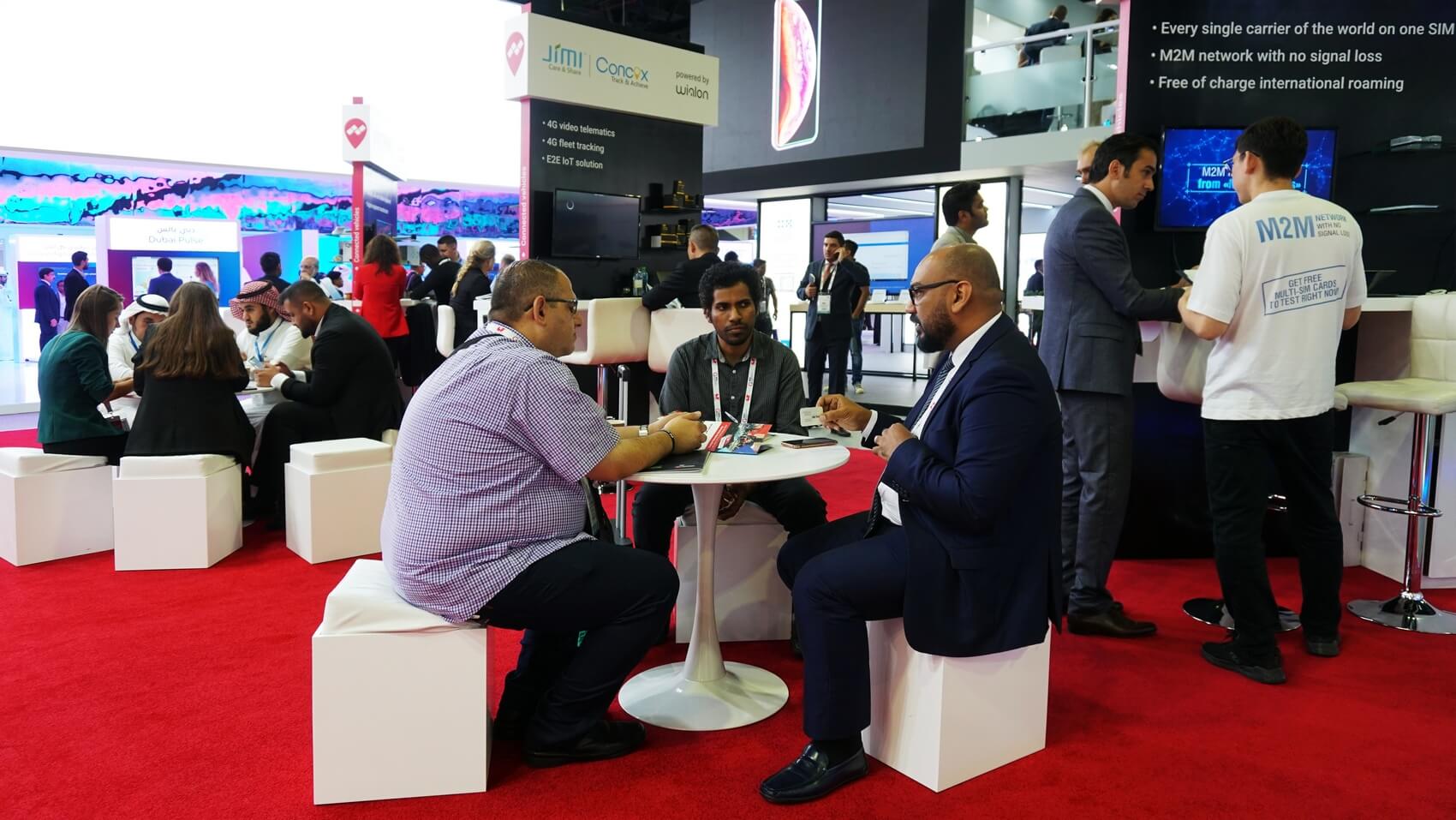 Results
Here is what Aliaksandr Kuushynau, Head of Wialon Division, says about the show and the Gurtam IoT zone:
"This year's GITEX can safely be called our most successful IoT zone over the years. Located in the central hall between the telecom giants Huawei and Etisalat, it drew an enormous amount of attention. The visitors' interest in our new solutions proved that Wialon, our signature product, develops in the right direction and allows solving the tasks of partners from different countries.
Even though some shows in other regions are going through tough times, here in Dubai, we witness the active development of the region and the expo itself. GITEX continues to be the flagship marketplace where we, the representatives of Europe, meet with partners from the Middle East, Asia, and Africa. And will surely meet them here next year."
Co-exhibitors also shared their impressions on the expo.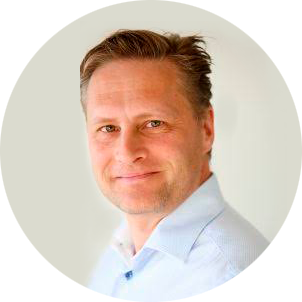 This is what Paul Nieminen, Sales Director at Aplicom (Finland) told us:
"We are here for the first time. It is a bit exciting to be at the Gurtam booth, and we are happy to be in this community, to learn and get to know the people around us. The IoT zone has been surprisingly huge, we have met a lot of new customers and partners, and Gurtam has been taking very good care of us during this exhibition."
When all the meetings were held, solutions – demonstrated, and coffee – finished, we thought it would be fun to leave something to be remembered by. The booth itself looked like an excellent option for that. So we took some spray paints and destroyed the booth as diligently as we worked during the expo.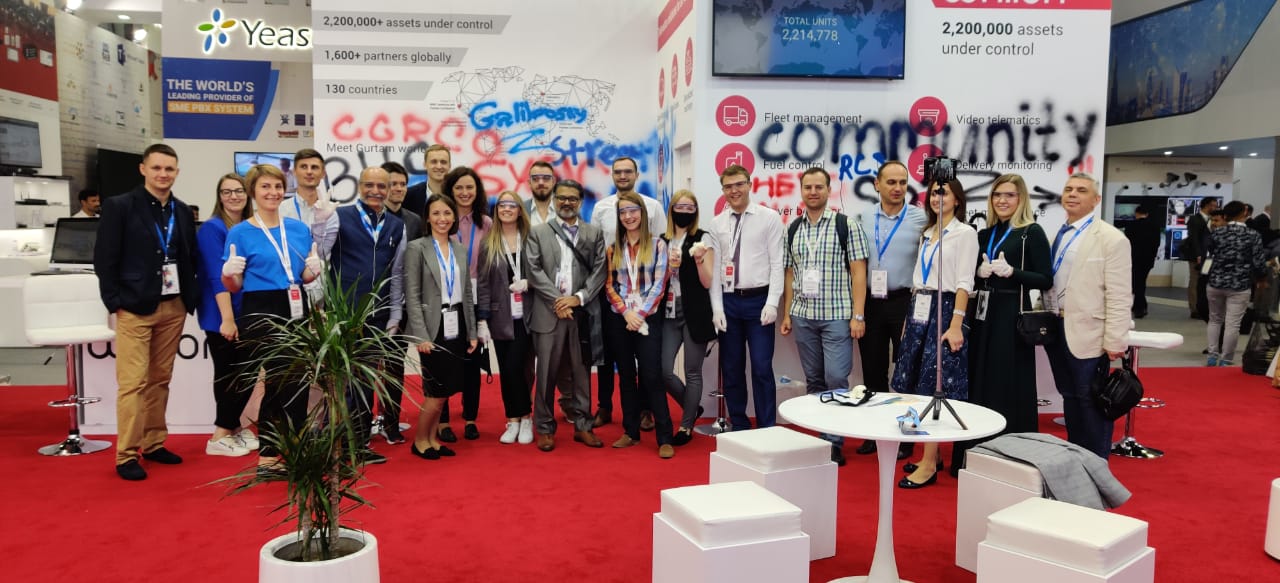 The expo turned out to be one of the most productive ones in more than ten years history of participating in various shows for Gurtam. The bar is far too high for the next year – are you ready to meet it?