Online GPS monitoring is the ultimate solution to boost fleet efficiency and productivity. If heads of companies with mobile assets in possession don't apply for online gps tracking, they often face endless difficulties mostly related to inefficient vehicle use, fuel thefts and unfair execution of office.
Wialon for fleets and mobile workforce real time fleet tracking allows to both optimize your costs and improve driver accountability. The system ensures control over various units - from conventional transport to family pets.
Online GPS tracking online with Wialon system allows for:
unit location and movement landmark history and control;
tracking a specified set of unit parameters, such as movement speed, fuel level, temperature and etc.;
managing units (executing commands, automatic jobs performance) and mobile workforce (text communications, calls, assignments and order management);
unit activity notifications;
unit route performance control;
unit data analysis and interpretation via reports (tables and graphs) and much more.
Flexible real time fleet tracking capabilities
Online gps tracking by Wialon offers truly flexible fleet and asset tracking capabilities. The system is fully customizable, which provides specific solutions to address any business issue. Wialon online gps monitoring solutions allow to:
Quickly create and set up accounts, assign rights to use specified system functions with the help of CMS(Customer Management System) interface.

Use almost any type of GPS/GLONASS hardware and a variety of external sensors, including temperature sensors in refrigerated and FMCG trucks.
Choose preferred map layers, including OpenStreetMap, Google Maps, Bing Maps, Yahoo Maps, Wikimapia and proprietary geoinformational service Wialon Maps.

Analyze sensor values, movement speed and any other unit data online.
View and optimize single or multiple units routes displayed as tracks on the map.

Create geofences and monitor visits, receiving instant notifications when the unit enters/leaves a geofence.

Use "Routes" tool to track vehicles or mobile workforce following the route waypoints.
Analyze driver behavior and identify reckless driving using Eco Driving module.

Electronic driver logs, accurate odometer reportings and mileage counters to ensure driver compliance.
Track stationary and mobile assets with cellular tower-based positioning option when GPS signal is weak or not available.
Generate links and share location for personal tracking or mobile workforce management purposes.
Get relevant data from units online with Wialon mobile application for iOS and Android platforms.
Wialon online fleet management system allows users to set up events (speed limit violations, fuel filling and alarm button activation) as notification triggers. Notifications can be sent via email, SMS, displayed in a pop-up window, or delivered as push notifications via Wialon mobile app on the smartphone.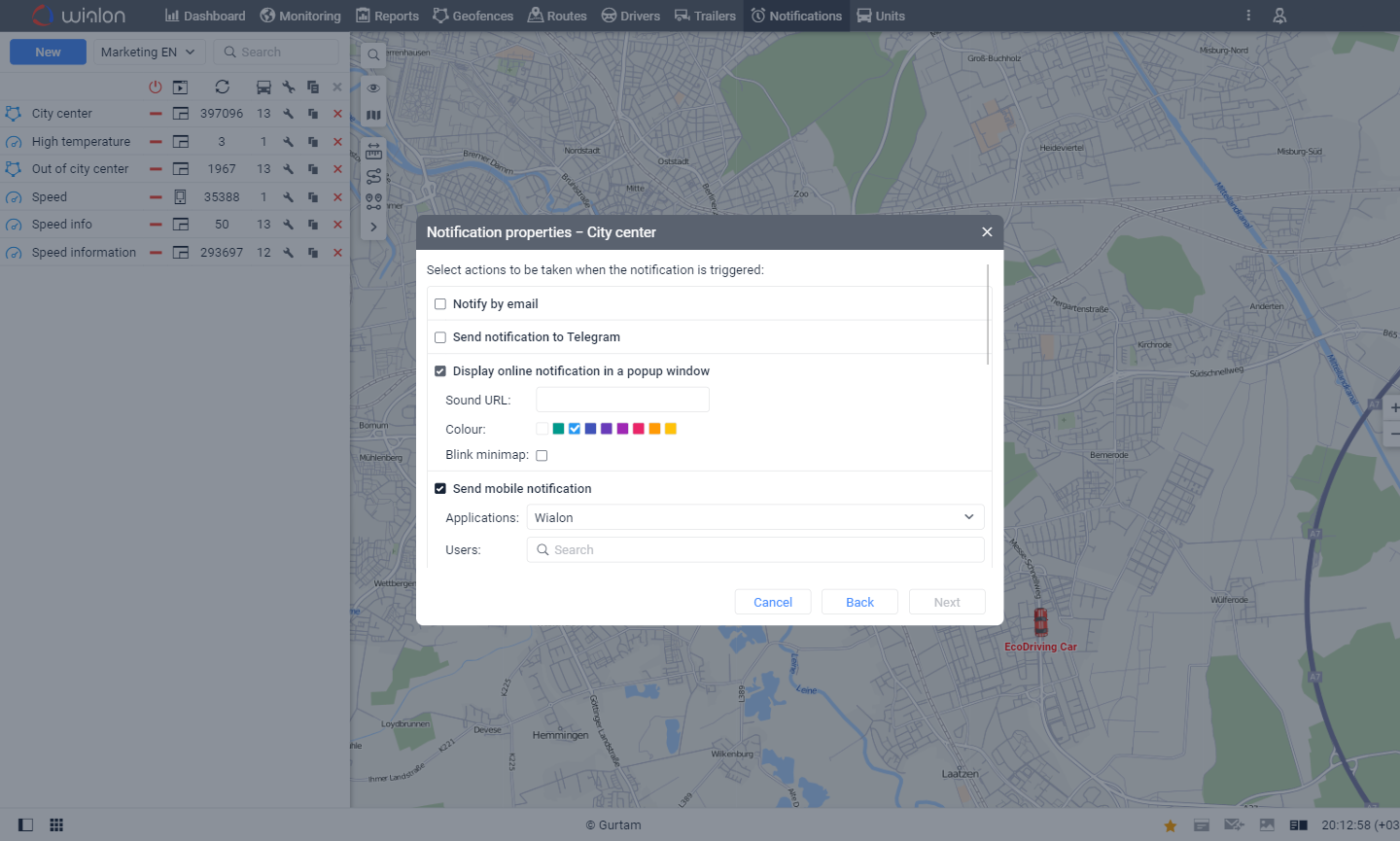 Wialon is able to process and analyze any data from units, show it in reports and visualize it as graphs. A user can choose report contents by setting up report templates. The reports can be created for one unit or unit group: flexible settings provide you with relevant information.