Mitigate the risk
Plan the workload bearing in mind how many vehicles are not running or will undergo the service shortly.
Assess costs
Invest in the vehicles with high mileage but no breakdowns and give up those going out of order not even leaving the fleet yard.
Manage several fleets
Create the hierarchy of users and distribute the responsibilities among the workers with the help of access rights.
React in time
Analyze the fleet status — overdue services, financial and time expenditures. These characteristics can be improved upon timely reaction.
Functionality of the fleet maintenance software
How the fleet maintenance management system works
Add services: works and spare parts
Analyze the maintenance process with the help of reports and notifications

Useful links on Fleetrun
for fleet maintenance management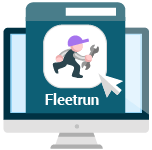 Details of the new IoT solution to control fleet maintenance management are already on the blog
Read article
Contact Wialon and achieve the most ambitious goals with telematics
Become a partner
Join our global association of telematics experts. Help your clients transform their business with connected IoT solutions and deep analytics.
Request Wialon in your region
Get a telematics solution from our trusted partners to improve your fleet operations, cut maintenance costs, and employ fuel management.
Fill out a request form to get started