Lately we've told you a lot about Wialon updates and our new Gurtam apps, but that's not to say we're passing by our partners' news. We would be nothing without our extensive network of partners, which have brought us 400 000 assets on Wialon Hosting globally.
Equal numbers win the lottery, and our 400 000 impressive figure is no exception to it. The champion to connect the 400 000's asset was Flex-GPS Company. In this regard Flex-GPS CIO Carlos Landriankindly agreed to tell us some facts about his company and answer several questions.
---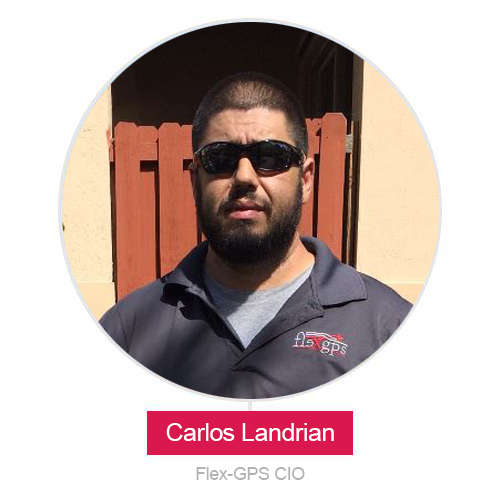 ‒ Carlos, when was your company founded and what did it begin with?
‒ Our company was founded in 2008, and tasked with the development of a custom GPS platform to enable clients to monitor their commercial fleets of vehicles. We began with a small team of programmers and managers focused on developing a user friendly application with GPS monitoring. Starting in early 2009 we were providing service to clients in Mexico, the Dominican Republic and the United States.
‒ How many people work with you from the very beginning and what's the team now?
‒ We started with only five employees working long hours to develop our first version of our platform. The team now is led by: Diomedes Quezada (CEO), Carlos Landrian (CIO) and Leonard (CTO). They oversee offices located NY, Miami, Dominican Republic, Colombia and Mexico. Today, we have staff dedicated to software development, accounting and technical support totaling fifteen people.
‒ We're wondering when you started working with Wialon? Did somebody tell you about this GPS tracking platform or you found it yourself?
‒ In late 2012 we found our platform did not have the desired scalability and features we had hoped for. Consequently, we began to search for existing platforms that were robust, scalable and flexible enough to meet the needs of our clients. We were introduced to Gurtam at the 2013 IT Expo East, and this is where our relationship began. We were soon coordinating with Sergei Leuchanka and his staff and they've been one of the greatest factors in the growth of our company since.
‒ What did you choose Wialon for? What features, in your opinion, differ it from other GPS-tracking systems?
‒ Wialon maintains a world class, scalable platform with unlimited potential. From the robust listener to the wide variety of supported hardware, it soon became obvious we teamed up with an experienced company that can make the solutions for our clients possible. Their engineering team has been outstanding in solving new hardware integrations required by our clients. We have full confidence in Wialon's ability to solve problems, and add features to their main hosting site which our clients find useful. The web interface does a great job at displaying all the necessary features our clients enjoy using. Wialon takes feedback from their partners seriously. They have been creative in assisting with our ever changing needs. No one else came close in comparing to what Wialon could deliver for us.
‒ Carlos, what Wialon product does Flex-GPS work with and what are the reasons for such a choice?
‒ We currently leverage Wialon Hosting for most of our needs. The Wialon Hosting site does an outstanding job at providing our clients a functional, easy to use interface for managing their fleets of vehicles. We are looking into leveraging the Wialon Kit for future development projects.
‒ Tell us, what are your most prominent projects today? And how do you see your company in 5 years?
‒ Our main goal has always been to expand the functionality of the Wialon platform leveraging the API to provide more advanced features such as: Harsh Driving Behavior, Advanced Fuel Reporting, Reefer Temperature Monitoring/Control, Onboard Dash Cameras, Fuel Taxes (IFTA), Garmin Integration and On Demand GPS Solutions. We are pursuing projects like these to meet the needs of our clients who want a powerful and easy to use solution to help them run their business. This will provide real time and useful analysis of their fleets and is custom tailored to the needs of their business.
In five years, we hope to open more offices in more countries as we expand to regions in North, South and Central America. We hope to establish affordable, user friendly solutions for many new clients internationally. Our other goal is to establish as many new units on the platform as possible.
Thanks to all Flex-GPS team members for contribution to Wialon development and its distribution. And we give our thanks to all numerous partners all over the world, as well as Gurtam team for their excellent work, bringing adequate results. Looking forward to 500 000 units in Wialon Data Center!