In August, we wrote about Navion, the company from Kazakhstan that connected the 2,100,000th unit. Two months later, we are delighted to mark another 100,000th unit connection! This time, the lucky partner is Lebanese MaliaTec!
The company became a part of the Gurtam community about three years ago. Over this time, they managed to connect a significant number of units, develop the reputation of a trustful business partner, make it to the Gurtam TOP 50 Global 2019 rating, come to attend Gurtam IoT zone at GITEX each time, and not to miss a single Telematics conference in Minsk or Dubai for the last three years.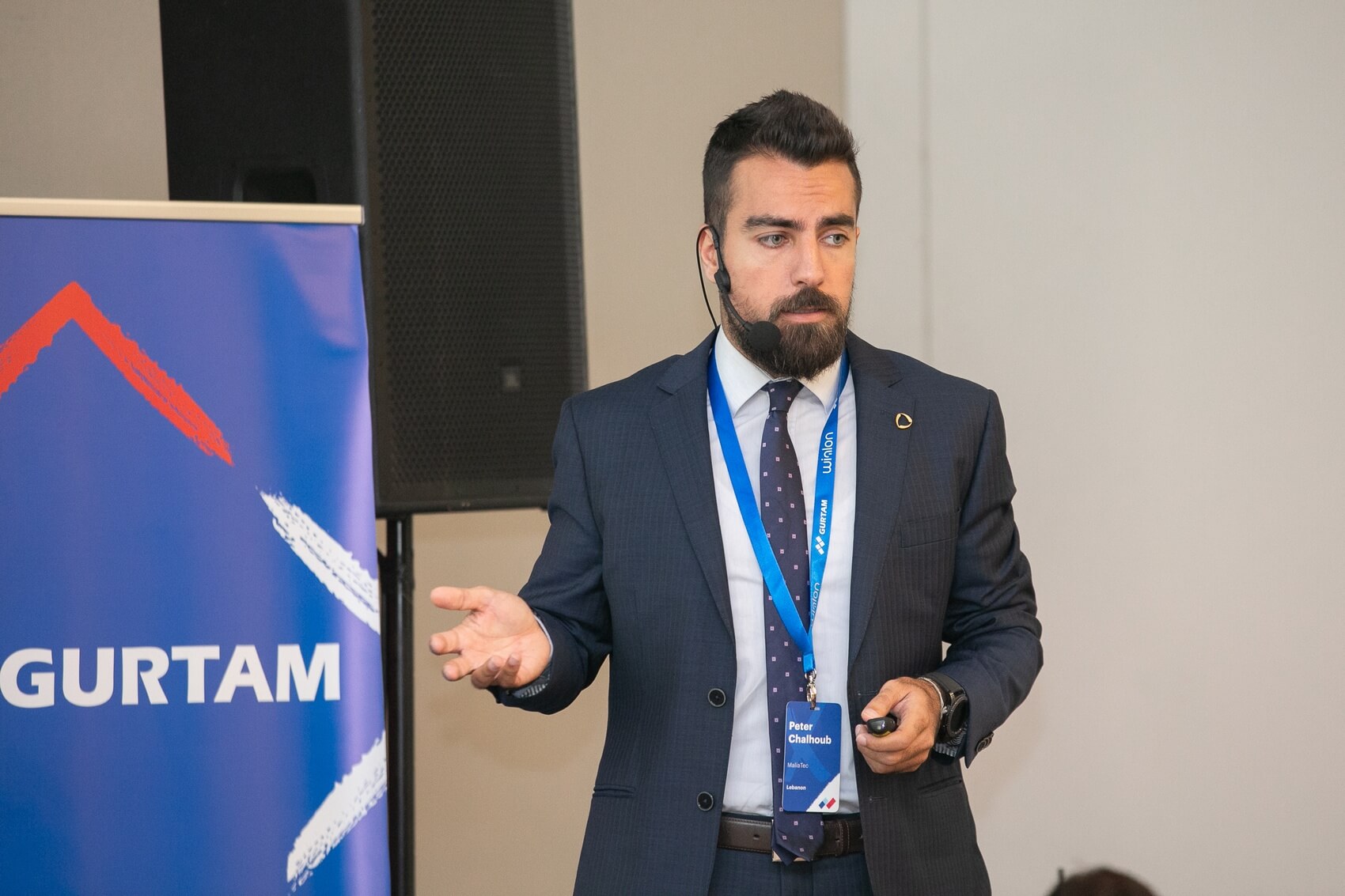 Peter Chalhoub, Business Unit Manager, MaliaTec, presents at TelematiX 2019 in Minsk
MaliaTec headquarters is located in Beirut with around 70 people working hard to provide their clients with quality satellite monitoring services. With five operating offices and five certified service centers, MaliaTec is expanding its presence in the Middle East region. The company caters to such markets verticals as retail, governmental and financial institutions, utilities, healthcare, transportation, and logistics. Among its clients, you will find Procter & Gamble, Coca-Cola, PepsiCo, Carrefour, McDonald's, Middle East Airlines, and many other recognized companies in the region.
Anastasiya Eroho, Head of Marketing Department at Gurtam, talked to Peter Chalhoub, the MaliaTec Business Unit Manager, during GITEX and among others asked him several questions about the achievement.
– Peter, when and how did your cooperation with Gurtam begin? How did you learn about Gurtam?
– We started our cooperation with Gurtam at GITEX 2016. I met Alex Smirnov who was the Head of Business Development, ME, at the Gurtam booth on my way out. At that time, we were looking for a new platform and had already made up our minds. I was just leaving the show. So, I met Alex, asked him a few questions (thought that top-level managers normally don't answer the questions like "Do you have this or that feature?" but I was wrong). I took his card, and later we got a demo account. We tested the platform in December 2016 and signed the agreement in February 2017. In April, I came to Minsk, got the training, and we have been cooperating ever since.
– What were your reasons for choosing Wialon?
– The reasons were simple: convenient price, feature-rich software, effective communication with the team, and that's more than enough for a start. On top of that, you had impressive hardware compatibility, more than 600 devices supported on Wialon which was really good. Two years later, you added one thousand devices more.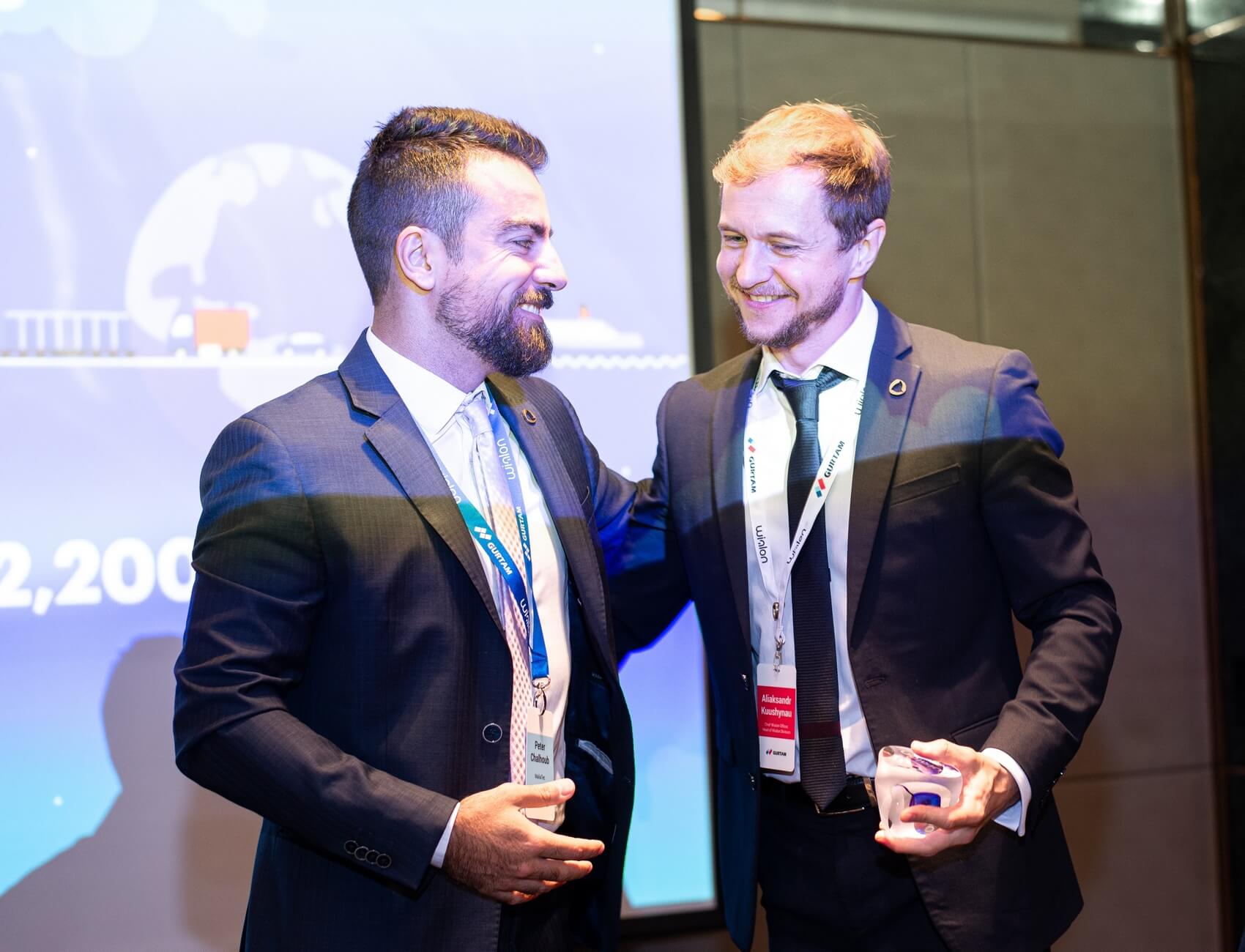 MaliaTec gets their award during Telematics Dubai 2019
– Peter, what hardware manufacturers you were working with at that time?
– We used CalAmp, Teltonika, and some others. All of them were on the list of Wialon-integrated hardware.
– How did you learn it was actually your company to connect the milestone unit? Were you surprised, or maybe you expected this to happen?
– We were working on a big project and had an internal connection goal that we wanted to reach in September. The next day after we installed the equipment for this client, the Gurtam manager we are working with (Valeriya Zinkevich, Regional Development Manager, ME) texted me saying she got good news and I thought, "What's happening?" Then I checked the number of units on the website, and it was 2,200,100 and something, and I thought that good news might be related to this matter. So, the guys called me later and told that we connected the 2,200,000th unit.
Actually, it was an exciting event for us – we both achieved our internal target and together with the community hit this nice number. There are not many telematics companies in the world that have 2+ mln units connected. We are happy to be a part of it, although we haven't celebrated yet.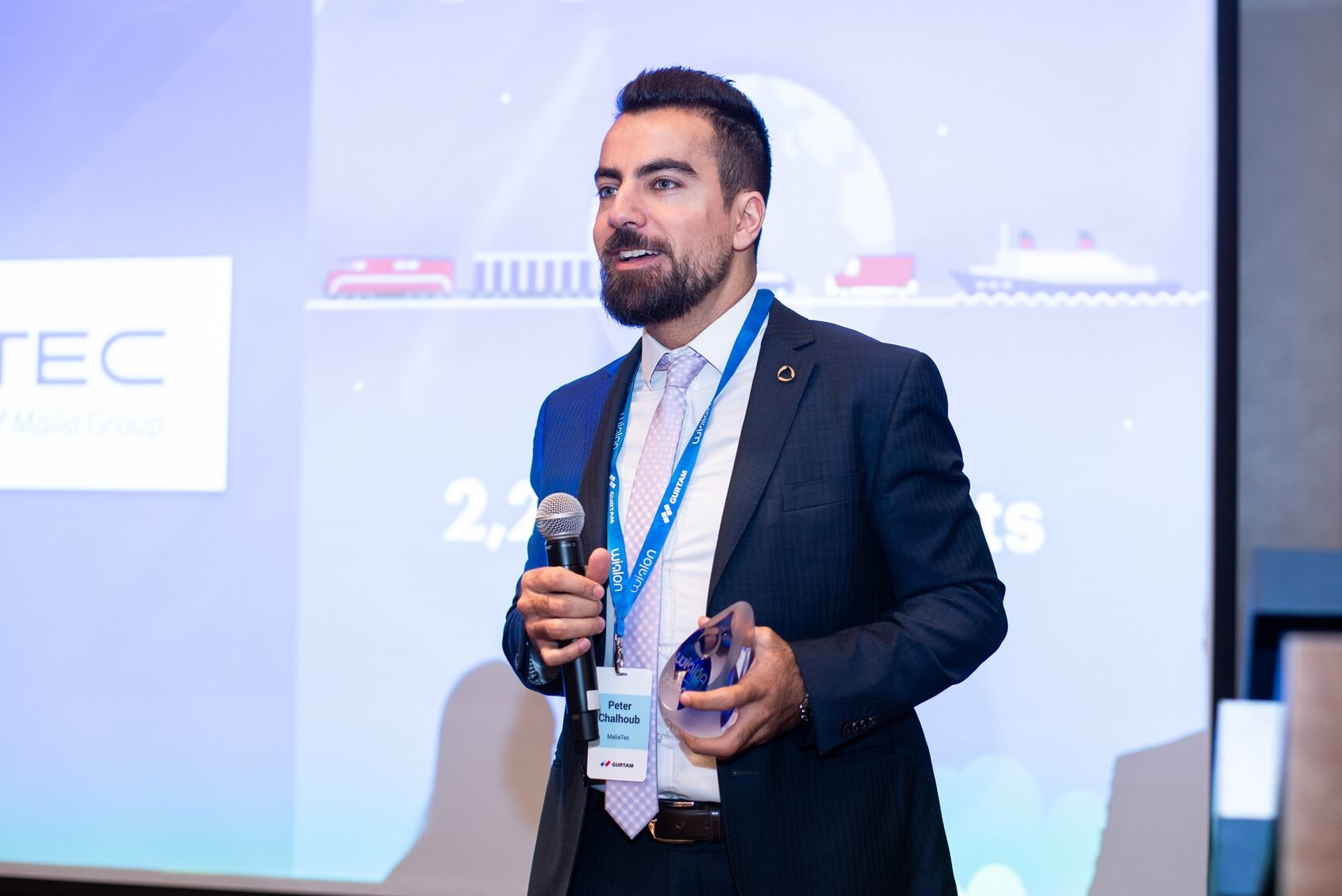 – Please share some prospects for cooperation with Gurtam and maybe some of your plans for the future.
– The future looks bright. With the rising need for IoT, we're glad that MaliaTec has associated its name with Gurtam and Wialon, allowing us to offer state-of-the-art turnkey solutions. This happened following extensive research and development from our team. We have a solid pipeline with numerous projects in different countries of the region. We work heavily at fuel solutions and also have projects with Wi-Fi modems along with on-board cameras: it's a combination of Teltonika routers, and Howen and Streamax mobile videos. These niches are fairly new for Lebanon and not very common. We will be the first to start implementing such solutions.
– Why did you decide to go into the specific sphere of video monitoring?
– We did it to stand out from the competitors. Besides, not everyone has a platform that can support the features necessary for such solutions. As a rule, if they say they have fuel or camera, in fact, they provide very basic functionality or a device that can take some snapshots, and that's it. We, on the other hand, offered time-tested solutions based on reliable hardware which works fine with Wialon.
---
We wish MaliaTec good luck on their journey and wait for another 100,000 connected units. Which company from what part of the world will succeed next time? We'll see soon.