Last year, the Wialon TOP 50 Global awards ceremony was held only virtually, but this year we combined the offline and online formats. We are tremendously happy that some of our partners made it to the ceremony shooting in Vilnius and received their awards in person. We are lucky to live in the digital age, and distance is no obstacle for us. So the rest of our partners participated online, just like last year.
In this article, we will tell you about what one needs to do to get into the top list, what is so magical about the winner, which company was honored twice during the ceremony and why, and, definitely, about the 50 top companies in the rating.
About Wialon TOP 50 Global
Wialon TOP 50 Global is the first and the most popular Wialon rating. It includes companies that have connected the largest number of units to Wialon over the past 12 months.
This year, integrators from 17 countries have made it to the top. 20 companies have been ranked as Wialon top 50 partners for the first time, five were listed as silver medalists, and some made a terrific breakthrough and triumphed in the golden 10.
Companies included in Wialon TOP 50 Global list are granted a certificate and a bronze, silver or gold award based on the place they won
How to get into the rating: advice from the host
The Wialon TOP 50 Global 2021 awards ceremony was held on September 9.
In the beginning, Aliaksandr Kuushynau, Head of Wialon, delivered a traditional opening speech. Aliaksandr thanked all members of our community for their desire to become better, improve their services and business processes. He believes that, in many aspects, it is the hard work of the Wialon partners that made it possible for Gurtam to connect half a million units to our platform over the last year. So Wialon remains the leading platform in the world, having the largest number of vehicles connected to it, and reinforces its leadership.
Aliaksandr Kuushynau and Anna Satishur at the awards ceremony
Aliaksandr also pointed out that getting into our ranking is not a matter of luck; it is hard everyday work all year round.
"Look for more opportunities, get yourself engaged in various projects, devote your time to learning and improving, and success will definitely come to you", – advised Aliaksandr to those who would like to get into the top list but for some reason could not do it so far.
Leaders by regions
Before we move on directly to the rating results, we would like to name a few partners that know for a fact what it means to work flat out day in, day out. Though not all of these companies have made it to the Wialon TOP 50 Global 2021 list, they have achieved leading positions in their respective regions.
Partners that connected the largest number of units to Wialon in their respective regions
List of companies and a bit of analytics
During the main part of the ceremony, the Wialon team members presented the companies, one by one, that have been included in the top list. The positions are as follows:
20 companies not included in the winners list last year have appeared in Wialon TOP 50 Global in 2021. This number of new companies is slightly lower than in 2020. There were 24 of them then. AVANTERN Telematics, Russia, has burst into the golden ten and taken seventh place. This is an incredible result, congratulations!
Among the former top list members, YUGRASPETSKONTROL, Russia, has shown the highest growth, with +29 positions as compared to last year. It is followed by Expert Telematics, Russia (+24 positions), and СTTMX, Mexico (+21 positions). We cannot but point out other members of the Wialon community with a considerable growth: Logic Trail, Ukraine (+19), Avtoscan, Russia (+19), SKVID, Kazakhstan (+17), Trayectoria, Russia (+15), GLOMOS, Russia (+12).
Half of the golden ten has been renewed – here we have 4 new companies. Apart from the above mentioned "rocket" AVANTERN Telematics that has taken seventh place, the following companies are ranked here: Wialon.SU, Russia, which has risen from 11th to 4th place, BrickHouse Security, USA, with a leap from 12th to 6th place, and Trayectoria, Russia, – from 24th to 9th place.
What is so magical about the winner?
Denis Grebennikov, Head of Business Development Center, Wialon, announced the winner. The first prize has been taken, for the second year in a row, by Wialon-service. This company has connected more than 150,000 units over the 11 years of working with Wialon. Denis asked Maksim Melesha, CEO of Wialon-service, what the secret to their success was and suggested that black magic might be involved in this. Maksim answered that there was some magic; it combined a close-knit team of professionals and a high-quality product.
Maksim Melesha,
CEO, Wialon-service
"Every time the Wialon TOP 50 Global winner is announced, we feel excited because it is an extremely important benchmark for our company. It means that we're doing everything right. We haven't slowed down, even during a year when our team members were mostly far off from each other. I want to thank them all as well as our partners and dealers in other cities and regions of Russia.
This is our joint achievement: we make every effort together to do our job perfectly. Our particular gratitude goes to you, the Gurtam team, firstly, for your invitation to Vilnius to take part in this ceremony because we missed offline communication enormously. Secondly, you work a lot and up to a high standard. It is a serious responsibility to have 2,200 partners. These are dozens, hundreds of thousands of people whose business depends on your product. And we are delighted that it was Wialon that we chose 11 years ago. This made it possible for our company to develop consistently over these years," said Maksim Melesha, CEO of Wialon-service.
---
Read an interview with the Wialon TOP 50 Global 2020 winner. Wialon-service: "We count on maintaining the first place!"
---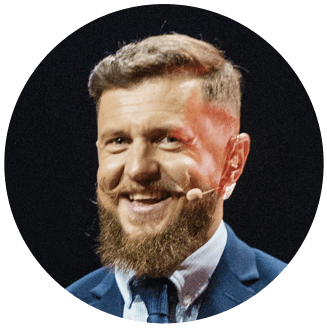 Aliaksandr Kuushynau,
Head of Wialon
"We had another 12 months of tireless efforts behind us, and now there are already 150 countries in the world where our partners implement the most incredible IoT projects with the help of Wialon. In each of these countries, there are at least 100 connected cars, and the total number of units has gone beyond the longed-for 3 million.
I'm very grateful to all vehicle owners who use Wialon to monitor and manage their fleet. I'm grateful to all integrators who contributed to the half a million new units connected to Wialon over the past year. Thanks to you and other members of our community, Wialon is the No.1 IoT platform in the world in terms of the number of connected units. And it is essential for us to celebrate the success of our leading partners who have dedicated their efforts and expert knowledge to this achievement most of all. I'm convinced that many more victories and fascinating projects await us in future with partners like these," said Aliaksandr Kuushynau.
Watch the full stream of our awards ceremony on our YouTube channel:
Why has one company received congratulations twice?
Cobertura Total en Telemetría (CTTMX) from Mexico was not only the company placed in our silver winners list but also the one that connected the record-breaking 3,000,000th unit to our platform. It is no accident that this partner is so lucky. CTTMX is the most successful Wialon integrator in Mexico, the third country in the world with the largest number of connected units. This is how hard work and luck go side by side.
CTTMX during the Wialon TOP 50 Global 2021 awards ceremony
Bonus: what Wialon means to our community
Before the ceremony, we asked our partners to continue the phrase "For me, Wialon is…". Here are the answers: strength, victory, versatility, success, family, professionalism, passion, reliability, stability, great opportunities, future, inspiring community, technology, convenience, work, and just wow!
And what does Wialon mean to you? Share your answer in the comments to the ceremony stream on our YouTube channel.
---
It is not the first event we have held in 2021. Two months ago, we honored the best telematics equipment manufacturers as part of GPS Manufacturers TOP 10, and we have given awards to the winners of the IoT project of the year contest quite recently. If you have missed these events, feel free to watch them on our YouTube channel.
Subscribe to our blog mailing list to stay informed of all Gurtam's news. By the way, now there is a Telegram chatbot at your service. It is an easy tool for getting notifications of Wialon-related events.